Is The Work From Home Era Over For Americans?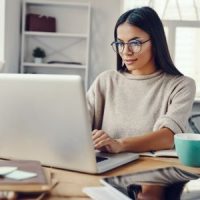 Slowly but surely, U.S. workers are, for the most part, returning to the office after the advent of the COVID-19 pandemic. A recent survey released by the U.S. Department of Labor (DOL) finds that in 2022, almost 75 percent of business establishments in the country reported that their employees worked remotely either "rarely" or "never." This is a stark change from the numbers in 2021 – but at the same time, the numbers for work-from-home remained high for certain industries, particularly in professional services, information and entertainment.
It is true that many bosses have been pushing their employees to return to the office, citing concerns about productivity. However, a study from an 'international' team of economists shows that at least in some U.S. metro areas, including New York City and Chicago, the number of work-from-home job postings has risen to a higher point than it has been in three years. The team concluded that areas with a larger white-collar workforce are more likely to offer remote positions at this point in time.
The general conclusions to be taken from both the international study and the DOL survey are that the frequency of workers doing their jobs remotely will depend, in the future, on the industry in which a person works. Depending on the industry, allowing employees to work from home can actually result in both lower costs and increased productivity for employers, even possibly in the event of a recession.
All this notwithstanding, it is crucial that working from home remain as a possible accommodation for disabled employees. The Americans With Disabilities Act (ADA) mandates that employers provide reasonable accommodations for disabled people in housing and employment, and working from home may be a reasonable accommodation, depending on a person's disability. Connecticut law does not explicitly require accommodations to be made, but the state's Commission on Human Rights & Opportunities (CHRO) interprets it as though it does.
Contact A Stratford, CT Attorney
The COVID-19 pandemic fundamentally changed the working world, and while some things are returning to 'normal,' some things will never go back to the way they were. If you have questions or concerns about working from home or returning to the office after working from home in Connecticut,  a Stratford lawyer from the Morizio Law Firm can help to manage them for you. Contact our office today at 475-338-3505 for a free consultation.
Sources:
bls.gov/news.release/brs1.nr0.htm
nber.org/papers/w31007