Office Parties Can Lead To Workers' Compensation Claims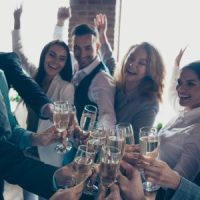 The holiday season is a time for most people to relax a little, and to unwind from the stresses of what may be a long year. Office parties are the highlight of the period for many – especially after a two-year stretch of isolation in many industries. Sometimes, though, the party can go a little overboard. If a party is company-sponsored, the business may wind up on the proverbial hook for workers' compensation claims after the fact. Here, our Connecticut Board-Certified Workers' Compensation Specialist provides an overview of the key things you should know.
An Employer-Sponsored Work Party May Be Viewed as an Extension of the Workplace
While some injuries suffered at holiday parties are merely to one's emotions or reputation – not generally actionable against the company – some harms can and will be the basis for workers' compensation claims or even personal injury lawsuits. For example, an inebriated supervisor making a pass at an employee may create or augment a hostile work environment claim – while such a claim requires more than just jokes or teasing, it can be used as evidence nonetheless.
Understanding Workers' Compensation and Office Parties in Connecticut
Physical injuries are even more likely to be classified as happening "in the scope of employment" if the office party is mandatory or otherwise characterized as an employment-sponsored function. A case from 2018 involved a Bridgeport city employee recruited by their boss to play in a league for city employees; he was later injured, and awarded benefits because the injury was found to have occurred within the scope of his employment. An office party can often be characterized in a similar way if it qualifies as a work event.
That said, one major exception to the workers' compensation rules in Connecticut is being under the influence of drugs or alcohol. If you are injured, even if the injury occurs within the scope of employment, the employee's choice to use alcohol or drugs places them outside the workers' compensation system. This most often affects cases involving driving under the influence – someone driving home intoxicated from the holiday party who gets into an accident has no claim against their employer, even if they provided the alcohol.
Key Factor: Mandatory Attendance vs. Voluntary Attendance
One of the factors in determining whether an office party injury is compensable under workers' compensation in Connecticut is whether attendance at the party was mandatory or voluntary. If attendance is mandatory, any injury sustained at the party is considered to have occurred in the course and scope of employment and is therefore compensable. However, if attendance is voluntary, the injury is not considered to have occurred in the course and scope of employment and is not compensable.
Mandatory attendance means that employees are required to attend a work party, while voluntary attendance means that employees have the option to attend or not. In the case of mandatory attendance, failure to attend may result in disciplinary action, while voluntary attendance is not required and there are no consequences for not attending. Of course, this is not always a clear distinction. There may be circumstances in which employee attendance of a social function/party is technically voluntary, but practically mandatory. A Board-Certified Workers' Compensation Specialist (BCWCS) can help you navigate this type of complex case.
Contact A Stratford, CT Board-Certified Workers' Compensation Specialist (BCWCS)
Holiday parties can be sources of great joy and create many good memories – but it is important to understand the rights and responsibilities of everyone who attends. If you were injured at your holiday party and believe you may have a workers' compensation claim, contacting a Stratford workers' compensation attorney from the Morizio Law Firm can help get the process going. Contact our office at 475-338-3505 for a free consultation.
Sources:
wcc.state.ct.us/crb/2018/6206crb.htm
law.justia.com/codes/connecticut/2012/title-31/chapter-568/section-31-275