Trench-Related Deaths Climb In 2022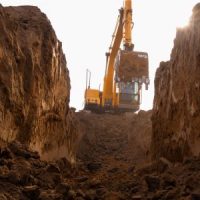 Trench excavation is a somewhat unusual vocation, but it is a crucial one, removing any material that would prevent foundations for structures like basements or bridges from being built. That said, it is one of the most hazardous occupations one can have in the United States, and in recent weeks and months, this has been underlined. According to the U.S. Occupational Safety & Health Administration (OSHA), 22 trench workers have been killed in the first half of 2022, compared to a total of 15 for the entirety of 2021.
The majority of trench excavation worker fatalities occur due to trench collapses, though those collapses may occur for different reasons – for example, vibration from heavy equipment or nearby roads, or a failure to move excavated soil away from the trench. However, many of the most common causes can be traced back to either the negligence of the worker, or of their superiors. For example, a recent accident in Jarrell, Texas killed two workers when their trench collapsed and the shields designed to protect them had not been employed.
Because of the increased fatality rate, OSHA has declared its intention to step up enforcement of safety regulations and general oversight. This will include increasing penalties – and possibly criminal referrals – for trenching safety failures which lead to fatalities. OSHA violations can lead to significant fines even if no criminal action is recommended. However, for an individual person who is injured in a trench excavation accident, the remedy for their injuries is still going to be filing a claim for workers' compensation – or, if the worker is killed in an accident, their family can file for death benefits. Workers' compensation is a no-fault system, meaning that regardless of culpability, an injured worker is entitled to seek benefits.
An injured worker who has been hurt due to a failure of safety systems may think that they have a cause of action against their employer, but in reality, if your employer carries workers' compensation insurance, it will be the exclusive remedy for their harm; only a showing that the employer deliberately caused the injury or fatality would merit a civil lawsuit in Connecticut. Trench excavation workers, if they are injured on the job, should follow standard procedure and inform their employer as quickly as possible of the injury.
Contact A Stratford, CT Workers' Compensation Attorney
While OSHA's increased oversight of trench excavation sites and employers will hopefully aid in lowering the fatality rate, it is crucial to keep in mind just how dangerous an excavation site can be, and act accordingly. If you have been injured during a trench excavation, regardless of whose fault it may have been, you have the right to seek workers' compensation benefits if the injury occurred on the clock. A Stratford workers' compensation attorney from the Morizio Law Firm can help to answer any questions you may have about the process, and guide you toward what will hopefully be the best possible outcome. Call our office today at 475-338-3505 for a free consultation.
Sources:
osha.gov/news/newsreleases/national/07142022
nbcnews.com/news/us-news/2-workers-presumed-dead-trench-collapse-texas-rcna35850