Law Regulating Work From Home Injuries Passed In Ohio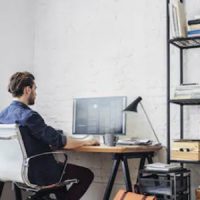 A recent bill passed in Ohio may change that state's laws around worker pay and benefits permanently, and lawmakers in other states are watching to see the effects. In June 2022, Gov. Mike DeWine signed House Bill 477, which amended Ohio's workers' compensation laws to address issues facing those who work at home.
Ohio's relevant statute is explicit that a compensable injury must have been sustained "in the course of, and arising out of" the worker's employment. The law previously specified four exceptional types of injuries where workers' compensation benefits cannot be obtained. They are:
All psychiatric conditions, unless arising from forced sexual conduct or an injury or occupational disease;
Injury caused by "natural deterioration" of tissue or another part of the body;
Preexisting conditions unless they have been "substantially aggravated" by the new injury (in other words, a situation where the injury is what many states define as the "major contributing cause"); and
Any injury or disability sustained after voluntary participation in a work recreation activity, such as a company softball game, if the employee signed a waiver before participating. Note that the participation must be voluntary, or any injury will be compensable.
House Bill 477 added a fifth exception for injuries sustained while working at home, or in a work area "separate and distinct" from the employer's premises. However, it does explicitly state that work-at-home injuries are compensable if three things are true in the specific situation: (1) that the injury occurred in the course of the worker's employment; (2) that the injury occurred due to a "special hazard" of the employee's employment activity; and (3) the injury happened during an activity "undertaken by the employee for the exclusive benefit of the employer." As one might imagine, this substantially limits an employer's liability for injuries sustained off the premises.
Connecticut's method of adjudicating these claims, by comparison, is not specifically codified. Rather, several cases over time have clarified the test currently used, which has three 'prongs' that a fact-finder must evaluate before deciding whether an injury is compensable or not. The employee has to be on the clock (acting within the "course and scope" of their employment; they must be at their place of employment – which can include their home – and they must be "reasonably fulfilling" their duties at the time of the injury, or performing activity "incidental" to the job. Each case is different, and requires review by an experienced legal professional.
Contact A Stratford, CT Workers' Compensation Attorney
While it remains to be seen if the Ohio statute will provoke any major adjustments to Connecticut's current workers' compensation law, an injury while working at home does not mean you are automatically prevented from recovering benefits. If you have questions or concerns about a possible claim, contacting a Stratford workers' compensation attorney from the Morizio Law Firm can be your first step toward receiving the compensation you need and deserve. Contact our office today at 475-338-3505 for a free consultation.
Sources:
codes.ohio.gov/ohio-revised-code/section-4123.01
law.justia.com/codes/connecticut/2018/title-31/chapter-568/section-31-284/